Description
مميزات الكاميرا: تتميز بكاميرا FUll HD مع وظيفة الرؤية الليلية. يمكنك توصيله بجهاز توجيه Wi-Fi باستخدام تطبيق Android ، iOS ، حيث يمكنك أيضًا عرض صورة الكاميرا عن بُعد. بالطبع ، يمكنك البدء في التسجيل والتقاط الصور في أي وقت. الكاميرا: F2.6 تنسيق الفيديو: H.264 زاوية عرض واسعة 120 درجة. بوابة: مع Xiaomi Xiaobai IMILAB EC2 ، قدمت الشركة أيضًا ما يسمى بالبوابة. يوفر هذا إشارة ثابتة تصل إلى مسافة 150 مترًا من جهاز التوجيه والكاميرات. يمكن توصيل ما يصل إلى 4 كاميرات ببوابة واحدة.
تركيب خالٍ من الأسلاك بنسبة 100٪ ووقت استعداد طويل للغاية – تصميم لاسلكي ولاسلكي نهائي ، يمكنك تثبيت كاميرا أمان لاسلكية IMILAB في الهواء الطلق أو في الداخل ، دون أي متاعب من أي أسلاك أو أسلاك تشغيل حول منزلك. تعمل كاميرا الأمان الخارجية هذه ببطارية مدمجة بسعة 5100 مللي أمبير قابلة لإعادة الشحن تدوم حتى 3-4 أشهر بعد الشحن الكامل حتى لا تقلق بشأن الشحن المستمر. (يلزم توفر 2.4 جيجا واي فاي ، لا تعمل مع 5G WiFi)
1080P FULL HD & IR NIGHT VISION – مع تقنية معالجة الصور ، يمكن للكاميرا التي تعمل بالبطارية القابلة لإعادة الشحن تسجيل مقاطع فيديو بدقة 1080 بكسل عالية بزاوية عرض 120 درجة ، بحيث يمكنك رؤية كل زاوية بوضوح في نطاق أوسع. في وضع الرؤية الليلية ، يمكن أن تساعد مصابيح الأشعة تحت الحمراء المدمجة المكونة من 8 أجهزة كمبيوتر في مراقبة الكاميرا بمدى 32 قدمًا ، مما يضمن ألا تفوت كاميرا الأمان الخارجية أي لحظات مهمة حتى في الليل المظلم.
WI-FI GATEWAY & SUPERB SECURITY STORAGE – تم تحديث كاميرا wifi هذه إلى الإصدار العالمي ، ويمكن أن تعمل فقط مع بوابة واي فاي IMILAB ، ويمكن توصيل بوابة واحدة بأربع كاميرات ، ودعم الخادم المحلي (شبكة سريعة) واتصال wifi.
مستشعر SMART PIR MOTION وتحديد AI – لا مزيد من الإنذارات الكاذبة التي تسببها الأمطار أو تساقط الثلوج أو الحشرات ، لأن مستشعر الحركة الذكية PIR المدمج في كاميرا wifi الذكية هذه يستجيب فقط للثدييات أو أي شيء أعلى من درجة الحرارة 97 درجة فهرنهايت (36.0 درجة مئوية) . سيتم تشغيل كيان الحياة الحرارية واستيقاظ الكاميرا ، وسيتم تحميل مقطع فيديو قصير على السحابة لتحديد ما إذا كان إنسانًا ، إذا كان الأمر كذلك ، فسيتم إرسال إشعار في الوقت الفعلي إلى هاتفك.
تطبيق Two-WAY AUDIO & CONTROLLER – تتيح لك كاميرا المراقبة المنزلية هذه المزودة بميكروفون مدمج ومكبر صوت عالي الطاقة التواصل مع الضيوف المرحب بهم وأفراد عائلتك بوضوح بغض النظر عن مكان وجودك. تحتاج إلى تنزيل تطبيق وحدة التحكم "Mi home" لاستخدام كاميرا الأمان الخارجية هذه ويمكنك تعديل إعدادات الكاميرا واستخدام بعض الوظائف الأخرى بواسطة التطبيق. مثل تعديل أطوال تسجيل الفيديو التنبيه ، ودعم الإعداد 10-30 ثانية.
Camera featuresIts a FUll HD camera with night vision function. You can connect it to the Wi-Fi router using its Android, iOS app, from where you cam also remotely view the camera image. Of course, you can start recording, take pictures at any time. Camera: F2.6 Video Format: H.264 Wide viewing angle of 120 °. GatewayWith the Xiaomi Xiaobai IMILAB EC2, the company has also introduced a so-called gateway. This provides a stable signal, upto a total distance of 150 meters from the router and cameras. Up to 4 cameras can be connected to one gateway.
100% WIRE-FREE INSTALLATION & ULTRA LONG STANDBY TIME -Ultimate wireless & cordless design, you can install IMILAB wireless security camera outdoor or indoor, no hassle of any running cords or wires around your house. This outdoor security camera is powered by a built-in 5100mAh Large capacity rechargeable battery that lasts up to 3-4 months after fully charged so that you don't have to worry about continuously charging it.(2.4G Wi-Fi is required, not work with 5G WiFi)

1080P FULL HD & IR NIGHT VISION – With image processing technology, our rechargeable battery powered camera can record videos under 1080P high resolution with 120° wide angle, so you can see every corner clearly in a wider range. In night vision mode, the built-in 8 pcs infrared lights can help the camera monitor 32fts range, which ensures the outdoor security camera doesn't miss any important moments even in a dark night.

WI-FI GATEWAY & SUPERB SECURITY STORAGE – This wifi camera updated to global version, it can only works with IMILAB wifi gateway, one gateway could be connected with 4 cameras, suppert Local server (Fast network) and wifi connection.

SMART PIR MOTION SENSOR & AI IDENTIFY – NO more false alarms caused by raining, snowing or bugs, for the Built-in Smart PIR Motion Sensor of this smart wifi camera only reacts to mammals or anything above temperature 97°F(36.0°C). Heat life entity will triger and wake up the camera, a short video will be upload to cloud to identify if it is a human, if so, a real-time notification will be sent to your phone.

TWO-WAY AUDIO & CONTROLLER APP – This home surveillance camera with an integrated mic and high-power speaker allows you communicate with welcomed guests and your family member clearly no matter where you are. You need to download the controller App 'Mi home' to use this outdoor security camera and you can modify camera settings and use some other functions by the app. such as modify alarm video recording lengths, support setting 10-30 seconds.
IMILAB EC2 wireless camera
The IMILAB EC2 Intelligent IP Camera is a fully wireless camera and can be installed indoors or outdoors. The wireless design ensures ease of installation, as no wiring is required. The camera has a built-in 5100 mAh battery, which ensures long-term use, the battery lasts for 100 days on one charge. The camera is also equipped with motion detection functions. If a human body is detected, the camera automatically starts recording and the recorded video is transferred to the Mi Cloud memory.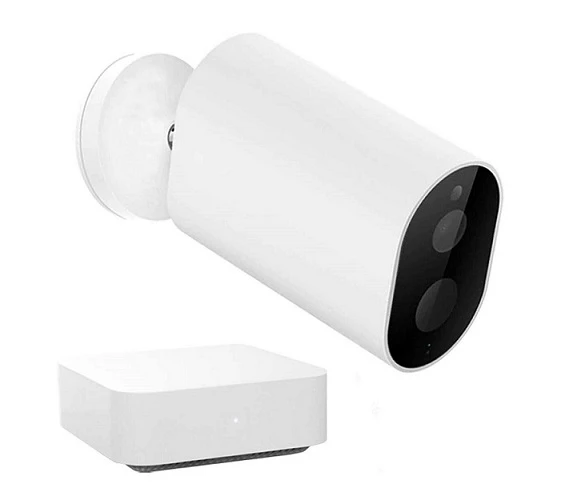 Motion sensor camera
IMILAB EC2 is integrated with PIR and the latest AI (Artificial Intelligence) technology, which makes it possible to distinguish between people, pets or other large moving objects. If a pet is detected, the system will not send an alarm notification to reduce false alarms. If a human is detected, the camera will send a notification to your Phone, which you can check in real time. The camera also operates in low power mode when no movement is detected, ensuring a longer battery life.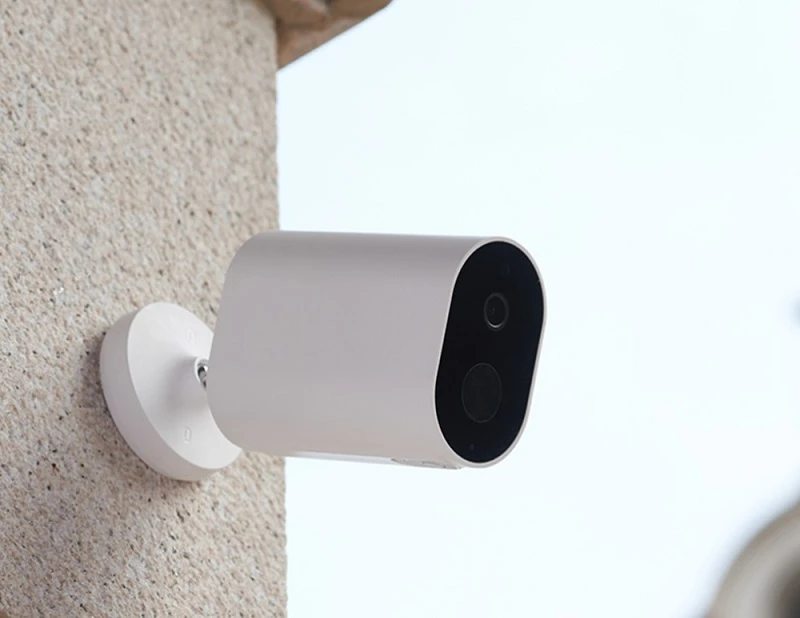 Quick and convenient installation
The camera does not require a power cord, which significantly facilitates installation of the device indoors and outdoors. Installation and setup of Imilab EC2 takes only a few minutes.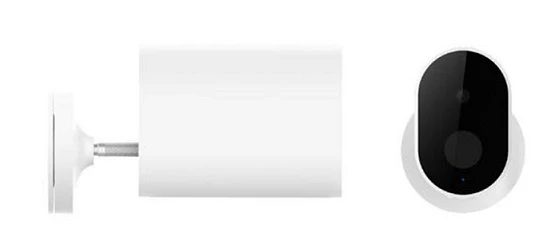 SPECIFICATION
Technical data
Weight
517g
Power supply
5V / 2A
Angle
120 °
Focal Point
F2.6
Operating temperature
-20 ℃ -50 ℃
Data storage method
SD card (64 GB maximum, supports FAT32 format only)
Battery capacity
5100 mAh
Dimensions
140,4 * 47 * 73 mm